As a residential community member at Rutgers-Camden, you have taken a big step forward in enhancing your education and that of your fellow community members, whether you are an undergraduate, graduate, law, or post-doctoral student. To aid in that educational process, the entire Housing & Residence Life staff is dedicated to assisting you during your stay within our community.
No other choice for university living will provide you with better opportunities to meet fellow students with common interests and goals than living in a residence hall. We congratulate you for making the right choice, and will work with you to ensure that you get the most out of living on-campus.
Below you will find a wealth of information and resources—one stop shopping for the on-campus resident. As always, if you cannot locate the information you are looking for, or require further explanation, contact the Office of Housing & Residence Life.
File a request to have something fixed in your room or in any other area of the building. If the problem you want to report requires emergency attention, please notify the security desk or call the office at 856-225-6471 and submit an online request.
View the fire safety information for the residence hall building you are currently assigned to.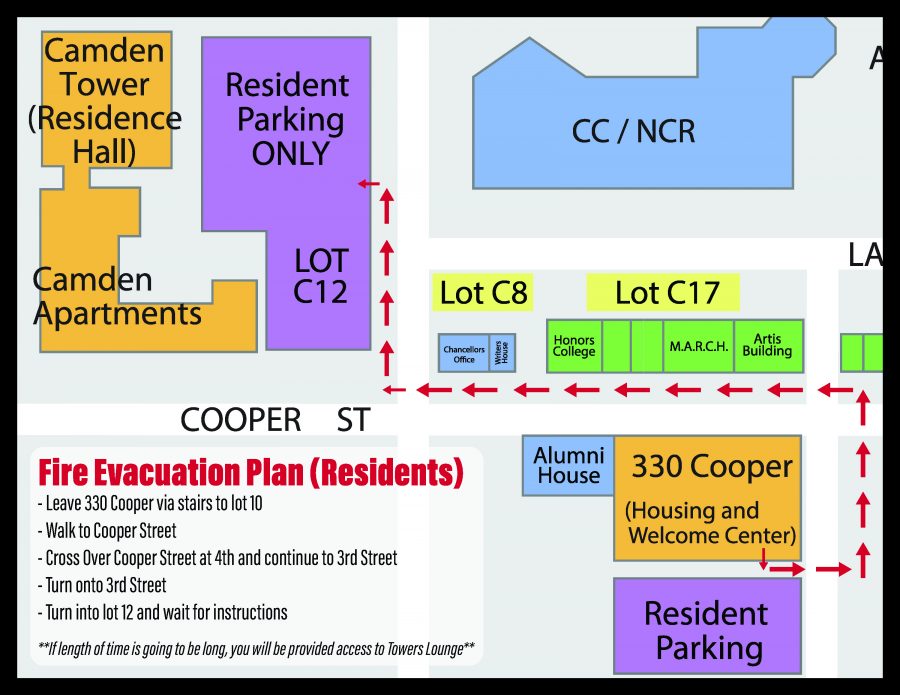 Laundry is included in the cost of housing at Rutgers-Camden!  Find out how to set up and use your account.
Learn about the University Lock-out policy, and the procedure to follow!
Learn how to get mail and packages shipped to you on campus!
Reach the ResNet Networking website to register your computer and get internet access in your room.
Find electronic versions of our housing contracts, information regarding important deadlines, and costs for on-campus living.
Link directly to your student account log-in page to review your term bill.
Answers to all your questions about your meal plan from Gourmet Dining.
Helpful hints for making the most of living with a roommate and links to web resources.
In many cases, students' personal property that is brought to college is covered under their parents' homeowners' insurance policy. If you know that you are not covered, are unsure, or want additional coverage, you should click here to get more information, and to purchase a policy.
Note: Rutgers University is not responsible for and cannot be held liable for loss, theft, damage, or vandalism to any students' personal property. Students are encouraged to ensure their property is adequately covered prior to moving in to the residence hall .
Information regarding new immunization and vaccination requirements for residence hall students.
Frequently Asked Questions and Ask A Question
Find quick answers to our most frequently asked resident questions, and ask Housing & Residence Life a question via the web.